The Ugandan Quidditch team: when reality overcomes magic

Article and photos by Marijo Silva

Some years ago, John Ssentamu read the first volume of J.K. Rowling's work: Harry Potter and the Philosopher's Stone. He borrowed the book from a person he saw reading it while traveling on a matatu: a minibus licensed for carrying 14 people, and one of the most popular means of transportation in Uganda.



Players and their improvised broomsticks

After finishing the volume, following his curious mind and spirit, he searched on the Internet more information about the famous wizards' game vividly described in the book: The Quidditch.

He was then flabbergasted and surprised to discover that the fantastic game was not only played in books and movies, but it was also a serious sport on Muggles' earth. People from all over the world were jumping, running and holding broomsticks between their legs while playing with different balls in a soccer field. The Quidditch was so well established that even a world tournament was organized every 2 years.



John Ssentamu holding a broomstick and a "bludger" ball

During the same time, John was already questioning about ways to foster development in his hometown of Masaka district, a town two hours away from Kampala.



A Keeper between the hoops

"I was wondering how I could attract people's attention into our region. A sport could be a way, but soccer, basketball, football…not an option! We could never be better than players in other Ugandan cities, where these sports were already famous and played by professionals. So what about Quidditch?! " John candidly explained, during our trip in a matatu, traveling from Masaka's center to one of the villages where the game is usually played.

And so, in 2013 John started his unusual and magic adventure involving several people in his community. They learned all the sport's rules from the Internet: by watching videos, reading articles and by posting questions to the Quidditch community, using the Ugandan Quidditch team's Facebook page, which John himself opened.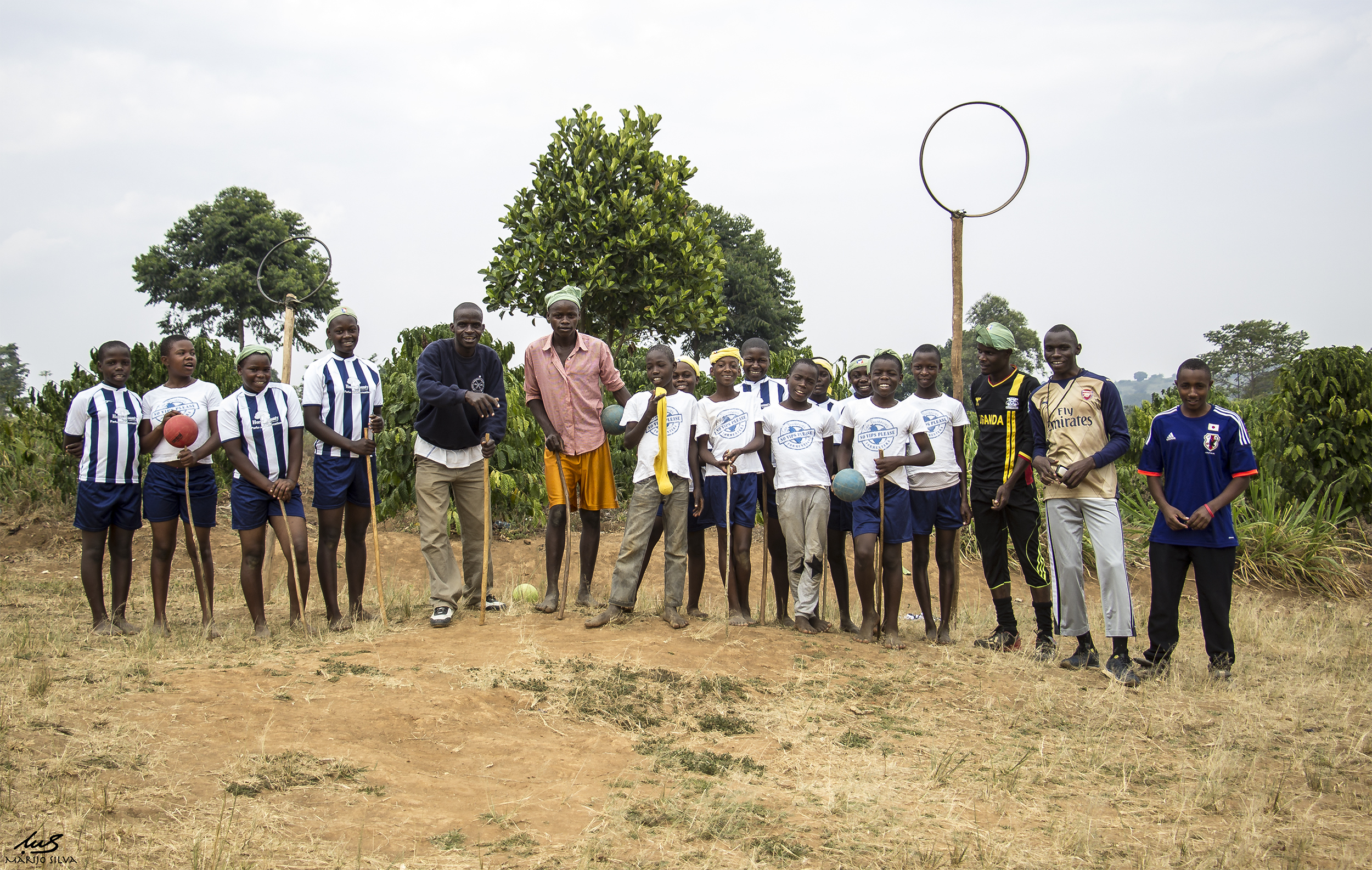 John and one of the Quidditch teams in Uganda

Initially, they locally mobilized resources to acquire basic gear in order to start practicing in the field. Later, they received additional equipment from donors or "Friends of Quidditch" as John described them.



Quidditch's initial position

In 2014, their story reached professionals from the international Quidditch community in different parts of the world. The same year, for the first time, they welcomed a British fellow player who assisted them in specializing and improving their skills. Their perseverance and hard work made it legitimate to aspire to the highest of any sport achievements: participating in the 2016 World Cup in Germany.


The Ugandan team's main aspiration is to participate in a Quidditch World Cup

And so, in order to participate to the World Cup, the Ugandan Quidditch fellows had to face an impressive number of hurdles: they had to apply and receive approval from the International Quidditch Association to join the tournament; in absence of local resources, they started (and successfully achieved) a crowdfunding campaign to cover the costs of their trip to Germany; they applied and obtained passports for all the team players (not an easy task in Uganda). Only one very last step remained: the visa to enter Germany.



Players waiting for the next move

Unfortunately, they couldn't get the needed approvals on time, as not all members of the team had access to a bank account, which is required by the German law: bank accounts in Uganda are still not a developed saving tool, especially because saving via "mobile money" is still the cheapest and most successful system used, above all in rural areas.

Nevertheless, John said it was just a first try. They expect to be prepared and ready to go for the next World Cup in 2018. At the same time, John keeps pushing nationally and internationally to promote Quidditch in Africa, especially because is a communitarian experience that does not discriminate by gender, since men and women can play together.



Quidditch is played by males and females together

"This is another beautiful thing about this game, it is something you can do together, whether you are a girl or a boy". John's enthusiasm was contagious, while we watched several kids playing together.



Watching the match

John's efforts are giving their fruits: nowadays the team comprises 53 players: 36 are children and 17 are adults, in 4 different districts in the south of Kampala: Masaka, Kalangala, Wakiso and Sembabule.

"John, one last question, what do you think is a priority to make this game more popular in your country"
"First of all we need to put in place reliable sources of funding so that all our plans are achieved. We are thinking about some new income generating activities and we are searching for local and international sponsors to enable us to realize these plans".




Playing Quidditch is a communitarian activity

"We want to see Quidditch expanded to other schools and communities and we would like to create regional and national tournaments. Also, we are looking for an international team to visit us and train with us as part of 2018 World Cup's preparations."

John is challenging the world. Who knows, in the future, the Quidditch World Cup could shine under the Ugandan sky.


Follow this link to get in touch with Quidditch Uganda